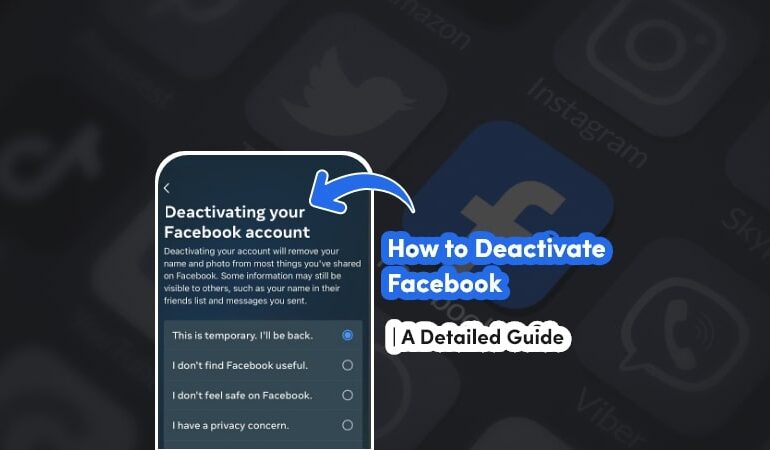 How to Deactivate Facebook | A Detailed Guide
Social media platforms have become a crucial component of our lives in this modern era.
Facebook is one of those mediums that have gained popularity among users. There comes moments when you want to deactivate your Facebook account and take a break.
Whether it is because you are worried about your privacy, want to spend more time with your family or friends, or just want to get away from the world of social media, deactivating Facebook account may be just what you need.
In this step-by-step guide, we will walk you through everything you need to know about how to deactivate Facebook account.
What is deactivation and deletion?
There are two ways you can delete your account on Facebook: deactivation and deletion.
Deactivation
Your account will be temporarily removed from view. You will not be able to see your profile, photos, or anything else related to your account.
Deletion
Your account will no longer be visible. You will no longer be able to log in to your Facebook account.
Why do people deactivate their Facebook accounts?
People deactivate Facebook accounts for a variety of reasons. Here are some of the most popular reasons for deactivating a Facebook account:
First, there are data privacy concerns.
Facebook's data collection practices have been widely criticized, and people do not want their personal information stored on the platform.
Deactivating your Facebook account allows you to take a step away from the platform, regain your privacy, and manage your time more effectively.
Second, there is the sheer volume of notifications.
The constant flow of notifications can be overwhelming and time-consuming. People may want to take a break from the platform's demands on their attention, and deactivating their Facebook accounts allows them to do just that.
Thirdly, if you have moved to a different social media platform, you may want to deactivate your Facebook account.
If you have been active on Facebook for a while and your activity and connections have changed, but you are no longer active on the platform, deactivating your account allows you to streamline your social media presence and redirect your attention to the platform that best suits your needs.
How to deactivate Facebook account?
In order to deactivate your Facebook account, follow these steps:
First, you should go to your Facebook profile.
Tap on the Settings icon in the top right corner of the page.
Now is the time to press the General button.
Scroll down to find the "Deactivation and Deletion" section.
Click Deactivate Account.
Follow the instructions to confirm your deactivation.
What happens after you deactivate or delete your Facebook account?
Deactivating your Facebook account will result in your profile being hidden from view. As a result, your friends will not be able to view your profile, photos, or posts.
However, you can still access your account, and you can reactivate your Facebook account whenever you want.
On the other hand, deactivation will result in the deletion of your Facebook account and all your data, including your Facebook profile, photos, posts, messages, and friends list.
Your Facebook account will be permanently deleted.
Once your Facebook account has been deleted, you cannot recover it.
What to do before deactivating Facebook account?
There are a few steps you should take before deactivating or deleting your Facebook account:
Download your Facebook data, including your profile details, photos, and Facebook posts. This will provide you with a backup of your Facebook data in case you want to return to Facebook.
Let your friends know about your Facebook account. If you plan to deactivate or remove your Facebook account, tell your friends so they do not worry if they cannot find you.
If you have connected your Facebook account with other apps like Spotify or Instagram, disconnect them before you delete or deactivate your Facebook account.
Conclusion
Deactivating FB account can be a healthy decision in the current digital landscape.
Whether you are looking for privacy, a short-term break, or a permanent exit, a thorough understanding of the process and adhering to this comprehensive guide will ensure a seamless transition.
It is important to back up data and explore alternative platforms and interactions in real time.
By taking charge of your online identity, you can achieve a harmonious equilibrium between the virtual and physical realms.