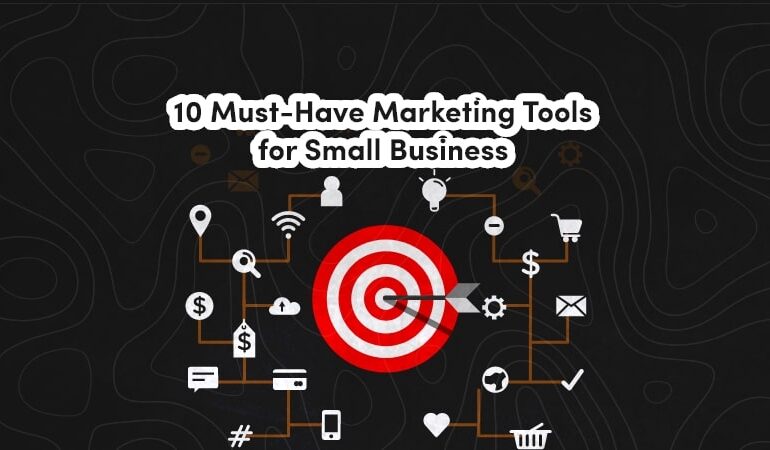 10 Must-Have Marketing Tools for Small Business
Starting a new small business poses unexpected challenges. Limited resources and budget can contribute to increased work pressure.
But worry not!
With a qualified team and the best small business marketing tools, however, you will be able to put yourself on the way to turn your business dreams into reality.
Below there is a comprehensive list of the top ten essential marketing tools for small business owners.
Let's get started!
Content Management Systems (CMS)
Content management systems can be a valuable addition to small businesses. These systems can help you manage your sites and blogs with an easy-to-use interface.
You do not need to have tech expertise. All non-technical users can benefit from CMS.
These are the top three CMS for small businesses:
WordPress
Benefitting from WordPress for your small business site is the ultimate way to boost your online presence without having to access other time-consuming resources.
It is a user-friendly and cost-effective content management system, offering a lot of customizable themes and plugins.
Wix 
Wix can help small businesses establish a strong online presence. Thanks to its clean and clear interface, it is pretty simple and easy to use.
Using this platform, you can create and manage your business sites without any technical expertise.
Drupal
Drupal is another amazing content management system that offers several customization features. You can create new sites aligned to your business structure using this platform.
Social Media Management Tools
Social media management tools can help you manage your social media accounts efficiently.
Using these tools, you can schedule social media posts, track analytics, and collaborate with your team members on social media.
These are some of the best social media management tools for small businesses:
HootSuite
HootSuite is a top-quality social media management tool that lets you streamline social media activities effectively.
With this tool, you can schedule, manage, and analyze all pieces of social media content across all social media platforms from a single dashboard.
In this way, it lets you save time.
MailChimp
MailChimp is another superb social media management tool for small businesses that makes it simple and easy to market content on social media.
It helps you build targeted ads and schedule and publish social media posts at the desired time.
Sprout Social
Sproutsocial compiles data from online profiles and offers a variety of tools such as publishing, engagement, listening, and analytics.
Therefore, it is a one-stop shop to schedule and publish content across all social media platforms.
Graphic Designing Tools
Graphic designing tools can help you build brand identity. Using these tools, you can craft compelling logos for your company and build an identity that truly reflects your business.
Graphic designing tools help small businesses build brand awareness and establish a recognizable presence in the market.
These are some of the top graphic designing tools:
Adobe Photoshop
Adobe Photoshop is a professional tool that can help you grow your small business.
With this powerful graphic designing tool, you can boost the quality of your product photos and create visually appealing images for marketing materials.
Inkscape
Inkscape is another amazing graphics editing tool that can help you craft appealing designs for multiple purposes.
Whether you are looking to design brochures, cards, or other types of marketing tools, this tool offers a lot of features.
Sketch
Sketch is a vector graphics editing tool designed for macOS and developed by the Dutch company Sketch B.V.
Sketch offers a comprehensive range of features for designing vector graphics, typography, and icons.
It includes helpful features such as artboards, grids, and rulers to ensure accurate and precise layouts.
Video Editing Tools
Video editing tools help businesses craft professional-looking videos. These videos can help you attract new customers and retain previous ones.
Using these tools, you can save time and money by quickly creating videos.
Headliner
Headliner allows you to create a top-notch video with captions easily. Simply upload a video and let this tool automatically transcribe the audio into captions.
FilmoraGo
FilmoraGo is a free video editing tool enriched with numerous themes, texts, and transitions. It lets you edit videos for your business like a pro.
Clipchamp Create
Clipchamp Create is a free online video editing tool that lets you create limitless video projects. It allows you to export videos in 480p results.
In order to unlock the premium features of this tool, you can purchase its paid version.
Search Engine Optimization (SEO) Tools
SEO tools can help you sky-rocket your online visibility and drive organic traffic to your sites. They let you conduct keyword research, do content analysis, monitor backlinking, do competitor analysis, and a lot of other things.
Benefitting from these tools can help you attract traffic to your site in this digital landscape.
Semrush
It is an all-in-one tool for improving your online visibility and discovering marketing trends.
In addition, it assists marketers in focusing on SEO, PPC, SMM, competitive research, content marketing, P.R., campaign management, and a lot more.
Ahrefs
Ahrefs is another significant tool for maximizing search traffic and optimizing your sites.
This SEO tool crawls web pages and stores enormous amounts of data. It offers a simple interface.
WooRank
This tool pays close attention to onsite SEO metrics that value your site the most.
It lets you focus on the specific areas of your site so that you drive desired results.
Email Marketing Tools
Promoting your business has become more important than ever in times like these. It will encourage your audience to purchase from you.
You can benefit from the following email marketing tools to sell your products or services to your target audience and even upsell the current customers.
GetResponse
GetResponse is an amazing tool for email marketing. Using this tool, you can access email templates that will help you generate more conversions and leads for your business.
This feature also allows you to craft a newsletter.
Omnisend
Omnisend features extremely useful email and SMS marketing options to help you excel in your business. It helps you make strong ties with your customers.
In this way, you can achieve your goals better and faster.
MailerLite
It is another mind-blowing email marketing tool for crafting professional landing pages and newsletters by customizing templates. Following this way, you will be able to manage email campaigns smartly.
Pay-Per-Click (PPC) Advertising Tools
In contrast to conventional advertising methods, PPC enables precise customer targeting by utilizing your data.
It even offers the flexibility to adjust bidding strategies according to factors such as device usage, time of day, and location.
By understanding your customer's search behavior and using this information, you can minimize unnecessary advertising expenses and optimize your ad campaigns effectively.
SpyFu
You can use SpyFu to analyze your competitors, boost website traffic, track your website's search engine rankings, and generate a higher number of potential customers.
Additionally, SpyFu can be used to establish connections with social media influencers and drive traffic by discovering valuable backlinks.
Unbounce
Unbounce empowers you to create landing pages that are both relevant and effective, driving higher conversions for your Google Ads campaigns.
By utilizing the Smart Traffic feature, which incorporates artificial intelligence (A.I.), you can optimize your conversions over time and maximize the return on your advertising investment.
iSpionage, Inc
iSpionage assists you in discovering the keywords utilized by your competitors and the duration of their usage.
When a keyword has been used over an extended period, there is a high probability that it is giving positive results.
Customer Relationship Management (CRM) Tools
The Customer Relationship Management tools provide a centralized location for storing customer and prospect contact details, identifying sales prospects, documenting service problems, and overseeing marketing campaigns.
They allow easy access to information about every customer interaction for anyone within your company who may require it.
Salesforce
This customer relationship management tool enables businesses of all sizes to efficiently manage, automate, and synchronize every aspect of customer engagement.
Some instances of CRM systems include marketing, sales, customer service, and support, encompassing various functions related to customer interaction.
Zoho Corporation
Zoho CRM is a unified hub that consolidates your sales, marketing, and customer support activities, allowing you to optimize your procedures, guidelines, and workforce within a single platform.
Zendesk
This tool can help you monitor and boost revenue while enhancing and strengthening customer relationships.
It empowers teams to collect and handle customer interactions and sales activities from various channels in a centralized location, simplifying the process.
Google Search Console
If you want to uplift your visibility in search engine ranking, Google Search Console is for you.
It provides a complete overview of how users interact with your site. Using this platform, you can improve your website's search appearance.
Moreover, you can also monitor link reports with this tool and crawl your site.
Google Analytics
When it comes to a new business, numbers hold great importance.
How much traffic do you generate from your website?
What are the primary sources of that traffic? What are the key characteristics of your target audience?
Answering these questions is crucial for the success of a small business.
However, tracking them can be a challenging task.
This is where Google Analytics steps in.
You can access information about the countries where your site has been viewed, compare traffic sources, and track key metrics on a daily, weekly, monthly, or yearly basis.