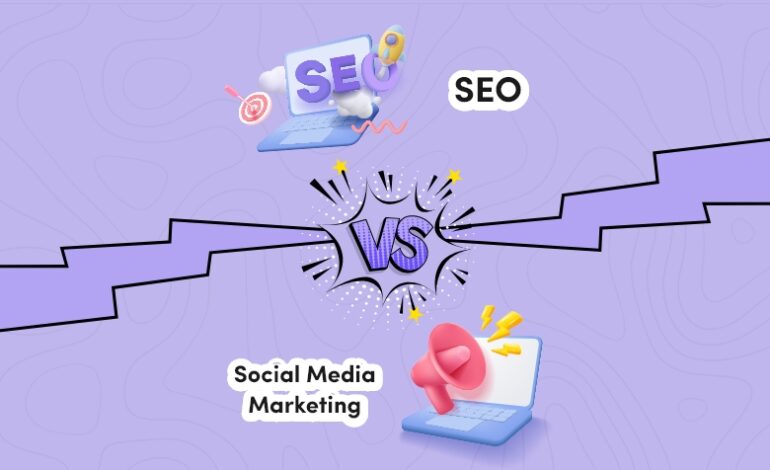 SEO vs Social Media: Why You Need Both for Successful Marketing?
In the past, optimizing a website for search engines (SEO) was as easy as stuffing keywords throughout the page. In this way, people used to rank their content.
Before the emergence of social media, it was one of the few methods available for generating website traffic.
Afterward, the delightful realm of social media marketing (SMM) emerged, helping marketers establish deeper connections with their target audiences.
SEO and SMM now work together to form a comprehensive digital marketing strategy.
Let's dive deeper into how businesses can effectively use these SEO and SEM strategies to attract more visitors and convert them into loyal customers.
What is SEO?
SEO involves optimizing your website in a way that facilitates search engines in discovering and indexing it effectively.
As a result, this improves your online visibility and makes it simpler for people to find your website when conducting relevant searches.
Over time, it has transformed, shifting from the practice of keyword stuffing to a multifaceted approach that includes a wide array of on-page and off-page strategies to enhance search engine rankings.
What is on-page SEO?
On-page SEO refers to the SEO tasks you perform on your website. You have the most control over it.
However, even if you optimize your on-page elements perfectly, there is no guarantee of achieving a strong ranking.
On-page SEO involves various factors such as:
URL structure
If possible, enable permalinks and include relevant keywords in your URLs.
However, avoid making extensive changes to your URLs without proper knowledge of 301 redirects. It could potentially harm your existing ranking.
Title tags
Use targeted keywords in the meta title and description. Make sure they are tailored differently for each page of your website.
ALT text for images
Although this text is not visible to users unless they hover over an image, it is essential for SEO.
ALT text describes the image, enabling users with visual impairments who use screen readers to understand its content.
Also, you can use keywords in ALT text.
Headings
You should also include keywords in headings since search engines give them slightly more importance.
However, ensure that your keyword usage is natural. Most importantly, the headings should accurately reflect the content of the page.
Page load time
Google aims to provide fast and relevant search results, which you should prioritize.
Almost half of consumers expect a website to load within two seconds or less.
Even a one-second delay can lead to a 7% decrease in conversion rates, resulting in a significant financial impact.
To reduce the page load time, you should optimize your website by utilizing web-friendly image formats, compressing them as much as possible, minimizing the use of plugins, reducing the number of redirects, and optimizing for mobile devices.
Page Content
Gone are the days when you could simply write 200 words on any topic and expect it to rank.
Google prioritizes quality content to satisfy its users, so it expects you to deliver valuable, high-quality content.
If users land on your page after searching for something specific, they should easily find the information they are seeking.
Internal linking
You should link to other pages on your website when it adds value for visitors.
This practice helps search engines establish connections between different pieces of content and understand the value you provide to users.
What is off-page SEO?
Off-page SEO refers to the actions taken outside of your website to improve its ranking.
While many people associate it with link building, it is more than that.
Backlinks play a significant role in off-page SEO.
Each time another website links to your site, it creates a backlink.
Different approaches to building backlinks exist, such as reaching out to other websites for links or benefitting social media.
The quality of your content determines how naturally others will link to it.
Submitting your articles to platforms like Digg and Reddit can attract a new audience and generate backlinks.
When users discover your site through these platforms, they may explore further, subscribe to your email list, or follow you on social media.
Establishing a presence on review websites such as Yelp and Google+ holds significance for SEO. It generates more backlinks and contributes to local or regional SEO efforts.
What is social media marketing (SMM)?
SMM refers to the marketing of your business through various social media platforms.
It may involve social media optimization (SMO) or efforts to strengthen your company's online presence across social channels.
Maintaining a high-quality social media presence can be challenging, and spreading your focus too thin across multiple networks can weaken your overall strategy.
It's important to note that although social signals, such as likes and shares, can impact your website's ranking, merely having a presence on social media would not automatically improve your ranking.
Social media can contribute to boosting your ranking because the activity and content sharing on these platforms help increase visibility and potentially generate links to your website.
Before diving into the SMM process, it's crucial to ensure that your website has a solid foundation, focusing on on-page SEO to the best of your ability.
Why do you need SEO and SMM for successful marketing?
The degree of focus on SEO vs Social media marketing for your business will depend on several factors.
Certain keywords can be extremely challenging to rank for due to the high level of competition in the market.
As a domain gains more traffic and a website becomes older, it gains credibility in the eyes of Google.
Consequently, achieving a higher organic ranking becomes significantly difficult compared to well-established entities like Wikipedia, Amazon, and similar platforms.
On the other hand, some keywords may be relatively easy to rank for.
Your current position in the rankings and your business objectives will determine the most suitable approach for your situation.
How are you currently employing SEO and SMM to attract more traffic and convert visitors into customers?